At California Olive Ranch, we are farmers with a strong connection to the land. We do our best to minimize our footprint and grow olives in a way that takes care of Earth's resources. And while we can take big steps on our ranches and in our mill to be more sustainable, the small decisions we make at home and in the grocery store matter too.
One area to pay attention to is food waste. While it may seem less harmful than other garbage, wasted food equals a waste of all the resources that were used to produce that food, too. When it comes to vegetables, we've come to understand that only certain parts are edible, and other parts go straight in the garbage (or, hopefully, the compost.) We're here to try to dispel some of those habits and inspire you to use the whole vegetable, root to leaf.
These recipes are meant to be simple sides, celebrating the bounty of freshness that is Spring produce. Many of the same principles apply to other vegetables, such as beets and their greens, and the stalks and leaves of cauliflower. Time to get creative, and get cooking!
Roasted Carrots and Spring Herb Salad with Carrot Top Pesto
Buying carrots with the greens intact is a great way to know that they're fresh – most farmers markets and grocery stores with good produce sections will have them available. The greens are nutrient-dense and definitely usable, so don't throw them out! This pesto is adaptable – add in some fresh basil if you have it, and feel free to use another nut or seed in place of the pumpkin seeds.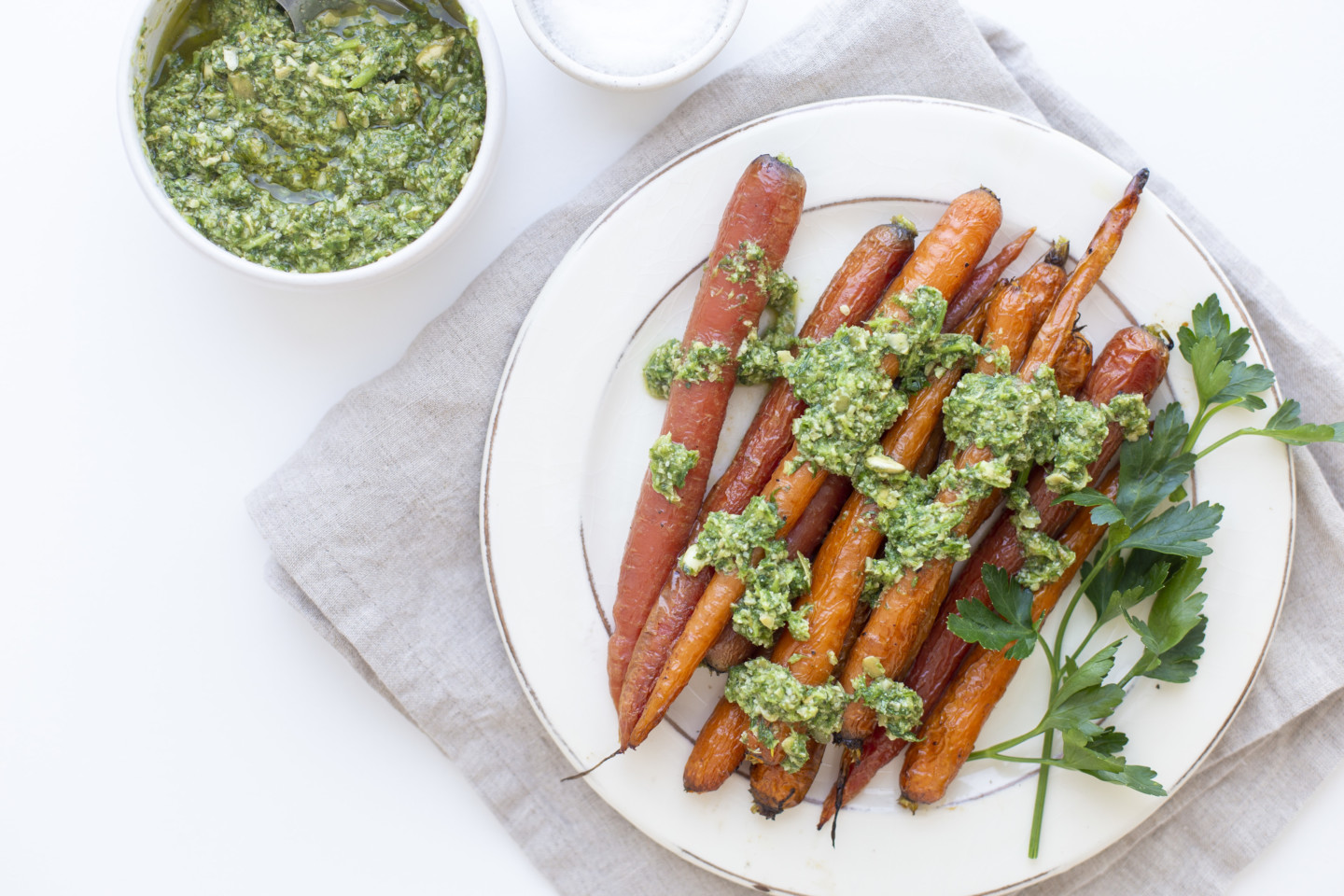 recipe adapted from Love & Lemons
serves 4-6 as sides
Ingredients:
for the pesto:
¼ cup roasted pumpkin seeds (pepitas)
1 clove of garlic
1½ cups carrot tops (stems and greens), coarsely chopped
1 tbsp. fresh lemon juice
⅓ cup extra virgin olive oil
sea salt & freshly ground pepper
Parmesan cheese, grated (optional)
for the carrots:
2-3 bunches medium carrots, green removed
extra virgin olive oil
sea salt & freshly ground pepper
for the salad:
4 cups baby greens of choice
2 cups snap peas
a handful of fresh herbs of choice, such as mint and parsley
½ cup feta cheese, crumbled
sea salt & freshly ground pepper
lemons, for serving
Instructions:
Roast the carrots:
Preheat the oven to 425°F.
Wash the carrots, removing any dirt, and pat to dry. Peel the carrots, if desired.
Toss the carrots in extra virgin olive oil coat, and season with salt and pepper.
Roast the carrots for 20-25 minutes, until crisp tender, shaking then around to turn once.
While the carrots are roasting, prepare the pesto:
Wash the carrot tops in cold water, set aside to dry.
Pulse the pumpkin seeds and garlic in a food processor with a pinch of salt and pepper. Scrape down the sides of the food processor as needed.
Add the carrot tops and pulse again, then add the lemon juice and pulse together.
With the blade running, drizzle in the olive oil until the pesto blends smoothly. Taste and adjust seasonings, adding Parmesan cheese as needed to balance out the grassiness of the greens.
Assemble the salad:
Combine greens, herbs, and peas in a large salad bowl. Add a generous amount of extra virgin olive oil, sea salt, and fresh ground pepper. Toss gently. Taste and adjust seasonings as desired.
To serve:
Serve individual portions of salad, topping with feta cheese, a squeeze of lemon juice, and a spoonful of the pesto.
Plate carrots on a serving platter and top the pesto.
Roasted Radishes with Greens
This is hardly a recipe, and more of a gentle nudge to demonstrate how you can leave the greens on radishes when cooking with them. There are often many types of radishes available, especially if you're shopping at the farmers market. We would generally recommend saving the Watermelon radishes for eating fresh and use either Cherry Belle, French Breakfast, or Easter Egg radishes for this recipe.
recipe adapted from Food & Wine
serves 8, as a side
Ingredients:
3 bunches small radishes with greens
2 tbsp. extra virgin olive oil, plus more for serving
sea salt and freshly ground pepper
fresh lemon juice
Instructions:
Preheat the oven to 500°F.
Trim any long roots from the radishes. Remove and wash the greens, then pat dry and set aside.
In a large ovenproof skillet, heat the extra virgin olive oil until shimmering. Add the radishes and season with salt and pepper. Cook over high heat, stirring occasionally, until lightly browned in spots, about 2 minutes.
Transfer the skillet to the oven and roast the radishes for 15 minutes, until crisp-tender.
Return the skillet to the burner and stir in another drizzle of extra virgin olive oil to coat the radishes. Add the radish greens and cook over moderate heat until they are wilted, about 2 minutes.
Add the lemon juice and season with salt. Serve immediately.
Broccoli Stems and Florets with Garlic and Lemon
The key to making broccoli trunks edible is to peel off the tough, outer skin. Without its fibrous exterior, the trunk is delicious when steamed or sautéd, like in this recipe. This one-pan dish is lovely as a side alongside fish, atop grains, or on toast with an extra drizzle of extra virgin olive oil.
recipe adapted from Amanda Sims for Food52
serves 4
Ingredients:
2 bunches broccoli
4 garlic cloves, smashed
sea salt & freshly ground pepper
juice from ½ lemon
Instructions:
Chop the broccoli by first separating the trunk, the branches, and the florets. Lop off the florets by positioning your knife right up next to the leaves so that the stem side ends up with as many branches as possible. Then, cut the trunk away from the branches.
Peel the trunk with a sharp knife or a spoon, discarding the tough exterior, and slice it up into coins.
Slice the stems from each part of the broccoli into ¼-inch cross-sections, the same thickness as the coins of the trunk. Finally, slice away any stem that's still attached to the florets; you want the florets to be so small that they barely hold together at all. Put the leaves in one bowl and all stem slices in another.
In your largest cast-iron skillet, heat the extra virgin oil and garlic over medium heat until the oil becomes fragrant, about 5 minutes. Remove the garlic, turn the heat up a little, and add your stem slices in a single layer, making sure they aren't too crowded. (If needed, fry in batches with another batch of flavored oil.) Season with a pinch of salt.
Let the stems get dark brown on one side, about 10 minutes, and then flip to sear the other side. When well-caramelized, the stems should be honey-colored all over with just a trace of light green.
Turn down heat to medium low, stir, and pile the floret pieces on top of the stems. Add a splash of water, cover, and let steam for 1 minute, until florets are bright green. Using a slotted spoon, transfer the broccoli to a large bowl, toss with lemon juice, and season with salt and pepper.
Serve alongside meats or fish, or pile on a piece of well-buttered toast.
OTHER WAYS TO REDUCE WASTE
1. Understand What You Can Compost
Seek out local resources for composting – if your city offers organic waste pick-up, start separating out your compostables! Or, even better, if you have a garden, put those kitchen scraps to use by making your own garden compost.
2. Shop Smart
Looking at your shopping habits is a great place to start when trying to shop more sustainably. When possible, purchase unpackaged produce – many grocery stores will even have loose salad greens that you can add to your own reusable produce bags. Opt for grains, nuts, and more dry goods in bulk, instead of regularly purchasing the packaged alternatives.
3. Store Food Properly
Give yourself as much leeway as possible by storing foods in a way that will increase their longevity!
4. Make vegetable stock!
Even when cooking with all parts of the vegetable, there are still of course some inedible scraps. Collect onion skins, garlic husks, and other scraps in a storage container in the freezer; when it's full, toss it all in a large stock pot, add water, salt, and peppercorns, and let simmer for a few hours. Voila – homemade veggie stock.
Read about our sustainability practices at California Olive Ranch here, and for more tips and tricks, read these posts by Sasha Swerdloff and the women behind the Secret Supper blog.
Featured Products