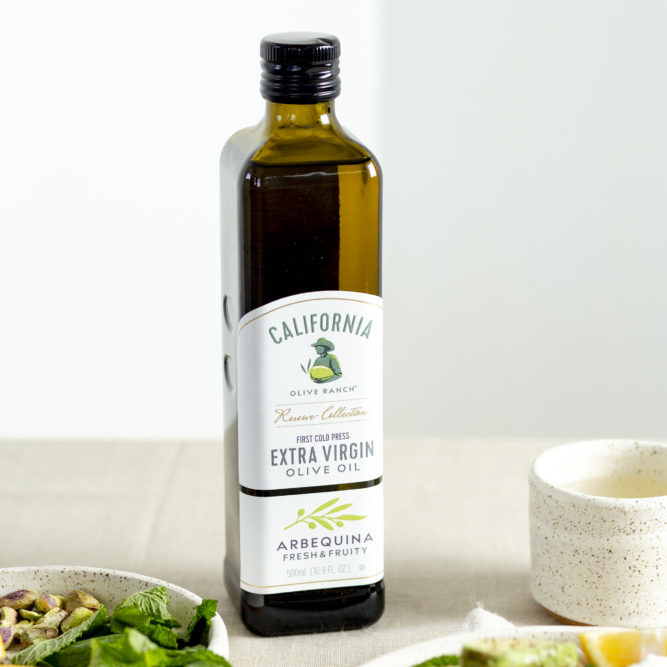 While we are strong believers in the workhorse, everyday extra virgin olive oil, some situations are benefited from an olive oil that shines a little brighter. Such is the case with these recipes, where fresh produce and simple ingredients are the canvas for our Arbequina extra virgin olive oil.
Our Reserve Collection Arbequina is a single-varietal oil, meaning it's a true representation of the year's crop, as opposed to our everyday oils, which feature a blend of our olive varietals and can be crafted to a consistent flavor profile. Our specialty Reserve Collection oils feature the fruits of our California farmers labors, and while they are appropriate for all cooking applications, they are best for those where you want the olive flavor to shine through.
Arbequina olives are our largest crop in California! The trees are generally small and very drought resistant, and produce plump, round fruit. Arbequina olive oil has a fruity and floral flavor profile and a medium-intense pungency, or pepperiness, making it well-suited for vinaigrettes, pestos, and finishing salads. Remember, a good extra virgin olive oil should smell fresh like fruit and flowers, and this oil is a great one to try to learn to recognize this aroma.
So, in celebration of Spring produce and the Arbequina olive, here are two recipes that allow both to shine.
Spring Panzanella Salad
A riff on the classic bread-based panzanella, this salad features herby cubes of olive oil toasted bread tossed with fresh pea shoots and snap peas, and is finished with Parmesan cheese and toasted sunflower seeds.
recipe adapted from Sasha Swerdloff
serves 2 as a main, 4 as a side
Ingredients
for the bread:
6 tbsp. extra virgin olive oil
3 cups rustic bread of choice, sliced or torn into 1 inch cubes
3 cloves garlic, minced
1 tbsp. fresh herbs of choice, or 2 tsp. dried herbs, such as parsley, thyme, and oregano
kosher salt and fresh ground pepper
for the dressing:
for the salad:
a few handfuls salads greens, sliced radicchio, baby kale, and/or pea shoots
1 cup snap peas, sliced in half
1/4 cup sunflower seeds, toasted
1/4 cup shaved Parmesan cheese
Instructions
Preheat the oven to 375°F.
Prepare the bread: toss the cubed bread, fresh, herbs, chopped garlic, salt & pepper in the extra virgin olive oil, adding more if needed. Spread into a single layer on a baking sheet and toast until crisp, 10-12 minutes. Remove from the oven and let cool slightly.
Make the dressing: combine all ingredients in a small bowl and whisk together until emulsified. Season additionally to taste, and set aside.
Assemble the salad base by combining the greens, snap peas, sunflower seeds, and parmesan cheese in a large salad bowl. Add the dressing and toss to coat, then top with the toasted bread. Finish with an extra drizzle of Arbequina extra virgin olive oil. Serve and enjoy!
Green Beans, Avocado, and Mint Quinoa Salad
The saltiness from the feta and pistachios in this salad is a nice counterpoint to the fruitiness of the Arbequina. Fresh mint and lemon juice add brightness, and the avocado and quinoa make the dish more filling than your average salad. Serve alongside grilled fish for a complete meal.
adapted from Love and Lemons
serves 2 as a main, 4 as a side
Ingredients
about 1 lb. thin green beans
1 tbsp. mustard seeds
kosher salt & fresh ground pepper
2 shallots, thinly sliced
2 cups fresh greens of choice, such as baby spinach or arugula
1/2 cup cooked quinoa
1/4 cup fresh lemon juice
1/4 crumbled feta cheese
fresh mint
1/4 cup toasted pistachios
1/2 avocado, sliced
Instructions
Add the greens beans to a wide lidded sauce pan. Add enough water to cover the bottom of the pan with about 1/2 inch of water, and bring to a boil. Steam the beans until tender-crisp and bright green, about 5 minutes. Drain water and set aside.
Add the mustard seeds to a medium pan and toast about 1 minute, until fragrant. Add the extra virgin olive oil, shallots, and a generous pinch of salt. Stir and cook until the shallots are soft, a few minutes.
Add the green beans to pan, stir to coat, and cook another few minutes. Add the greens, another pinch of salt, and a few grinds of pepper. Stir, allowing the greens to wilt slightly.
Remove from heat, then stir in the quinoa, lemon juice, and feta cheese.
To serve, divide among plates, then top with fresh mint leaves, toasted pistachios, and sliced avocado.
While our Arbequina is truly special, make sure to try our other Reserve Collection extra virgin olive oils – an Arbosana single-varietal and our coveted Miller's Blend. All three are available at select retailers and online!
Featured Products